5 Ways You Can Get Great Interviews From Your Subjects
Lately we've been doing a LOT of interviews.  People don't like to talk on camera as a rule, So how do you get honest, interesting, and conversational interviews or testimonials from your customers? We've been doing it for years. We'll share with you below some of the ways we do it. And if you have to GIVE an interview – these helpful tips for filming an interview are helpful points to know too!
Step one: Prep them for what you want at the start of the interview.
Step two: DON'T give them the questions you're going to ask ahead of time.
Step three: Make them comfortable!
Step four: Start conversations. TALK with them.
1. Prep them for what you want at the start of the interview.
When filming an interview, even more so than talking on camera, people generally don't like to be surprised. And they certainly don't like to feel unsure about themselves. Let your subject know that you would like to have a conversation with them about their exposure to your product or your service, and that you would like to ask them about their experience.  Let them know that this will be an informal and low pressure situation in which there are no right or wrong answers. People will often feel like they must be well prepared to answer questions – especially if it's going to be on camera. They also think they need to have everything perfect to be able to deliver an entire script worth of dialogue in one take. Assure them that this is the farthest thing from the truth and that any answer can be given any number of times if they don't like it. It's only a bit more interview time and in our digital world, you can do takes over and over, within reason, of course!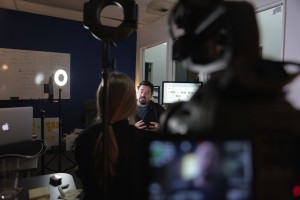 Read More