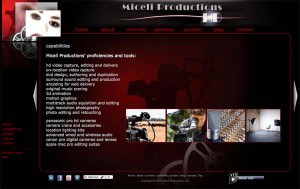 Miceli Productions launches newly designed website March 2010.
Built using Freeway Pro software by Michael Miceli, lead website architect, with creative input from Jennifer Blessing Miceli and marketing consultant Lisa Niedermeyer, the new website features:
HD Inspired 16:9 Aspect Ratio (no scrolling!)
Automation and Integration of Social Media Platforms
Process Insights (your project's journey from conception to broadcast)
Updated New Media Client Case Studies
New Miceli Productions HD Demo Reel (with dynamic SmartSound music score)
Expanded Video Portfolio
Mobile Version (you can now view our website and videos on your iPhone)
Stay tuned on facebook for the soft launch when we invite comments from our network.  Official launch takes place March 2010.
Read More