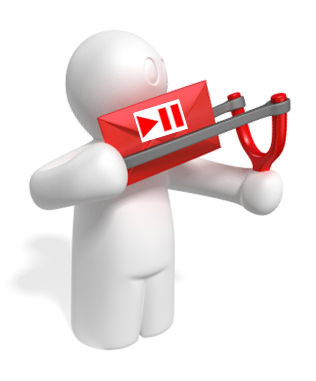 Leading email newsletter services are going out of their way to make it even easier to incorporate video into email campaigns. How far away are we from embedding a live streaming video in an email invitation? It's just around the corner. But for now, Constant Contact and MailChimp are leading the way with new video-friendly email marketing features.
Constant Contact is using their new "video link" feature to add YouTube, Vimeo or Blip.tv video links.  To be clear: you are not embedding the video into the email, but rather quickly pulling in a video thumbnail, selecting what size you want it to appear and including the link to the video – all in one step. Previous to this new feature, you would need to create an image to represent your video, import it into the media library, import it into your email template and then link the image to the video URL. What a hassle! These new tools are great new short cuts. Your readers will see a recognizable image of a video and know to click it to play, no significant change for them – but a significant time saver for those wanting to include video in email campaigns.
MailChimp offers a similar feature, but by a different name. Using MailChimp's "merge tag" tool you can seamlessly incorporate video screenshots and links to hosted video.  According to MailChimp, "Email clients don't allow you to embed video, we make it easy for you to fake it with videos from YouTube, Vimeo and Blip.tv."
PatronMail, EmmaMail, and Vertical Response are other popular email marketing services that don't currently offer this video link short-cut feature; however all three see the value of video in email and are actively educating their customers on how to use video effectively in email campaigns (see Vertical Response blog post Five Tips For Using Video in Email.)
As video continues it trajectory as the leading online media communication tool, we predict there will be more new features and tools to integrate video easily into email. One of our most successful email campaigns using video was the invitation for our 8th Anniversary Open House Event. Miceli Insiders received an email invitation that included a 3D Timeline Video showcasing our 8 years of growth as a production company. The response to the invite was very positive, the attendance for our open house was close to capacity, and the video gave folks something interesting to talk about, generating buzz before and after our event.
Image: Blue Sky Factory