Video content has always been powerful, as we've all come to know, but today it's more powerful than ever before. Over 90 percent of marketers say video has helped increase the overall understanding of their products and services. And 86 percent of marketers say creating video content has helped increase the sales of their products and services. Yet, as a SMB it's important to know that video can be used for so much more besides marketing.
Video content helps support your business or organization in a long list of ways: recruitment, training, product sales, customer retention, brand evangelism, social engagement and a lot more. It's become a key way for businesses to be in touch with their clients & employees, create trust and share your brand identity - reasons we've built into how we advise our clients. Your target audience is constantly consuming video information and the way they retain that information is changing. It's essential to make the type of video content they are seeking.
When you think about the term "video", we're sure a flurry of things come to mind! Types of videos... your audience, the format, the length, short form vs. long form, placement, etc. There are many possible paths when it comes to video creation, and it can be difficult to make informed decisions that are best for your company, the brand or a specific product. Creating the video content you need can be an overwhelming process, perhaps especially for organizations that have marketers, but not specifically video marketers or video production capabilities.
You may have trouble determining if you should take on everything yourself or if you should seek support from experts. Here are signs that you need to use a video production agency.
Sign 1: You Don't Know Where To Begin
If you know you need to implement video content into your strategy, but are not sure how or where to start, that's a great indicator that it's time to seek outside help. If other businesses in your field (ahem, competitors) are rolling out video content and it's attracting their target audience, it's time for you to do the same. Content of the right type and placement bolsters marketing, sales and messaging efforts.
When you are trying to create video content, ask yourself the following questions:
What type of video content should we make first?
What content should we have for the messaging we need?
Who is going to film the video?
What time and cost should be budget for video production?
If you are feeling stuck when it comes to your video efforts, a video production agency will be able to advise you on the answers to these key questions. An agency can help you build a successful video content strategy and help inform your initial and long term choices.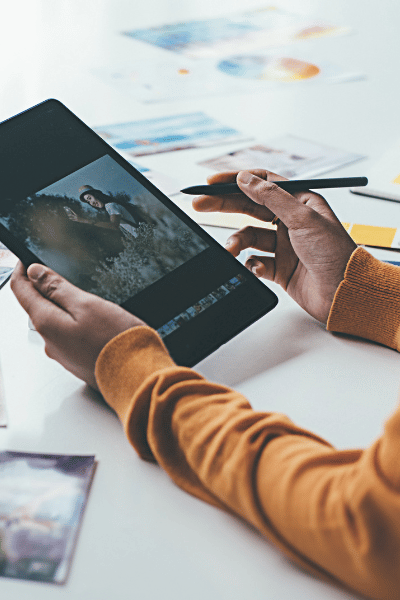 Sign 2: You Need To Meet A Deadline
You can't rush a good thing. But sometimes you're faced with tight deadline where you need to get things completed as quickly as possible. (This might be a perceived deadline or an actual deadline! i.e. a key competitor launched a new media campaign or a product partner wants to feature your company online, at a trade show or event.) You may have a short timetable for creating your video content, and consequently you may want support to take on this task. That's a great point at which a professional can come in and start a project with you.
How can a video production agency bring value when you're on a tight deadline?
A video production agency is aware of how much time is needed to create the video content you're seeking
A video production agency will have the tools and space needed to shoot a video
A video production agency has the resources and processes already in place for sourcing actors, voiceover, music, graphics, etc.
A video production agency will be able to make edits to your video in a timeframe that allows you to meet your deadline
Sign 3: You Want Better Video Content
If you have created video content in the past but you were not satisfied with the results, hiring a professional will up your game. If you previously found the process overwhelming, you can mitigate future stress by partnering with an outside production agency. They can create a solid video strategy regardless of the content you need.
When you partner with a video production agency, you will have access to a creative team of people who know the ins and outs of video content, marketing, video production and strategy. The video production agency you choose should help you create a clear plan to generate the video content you need. In today's world, you want videos that do work - that are more than just pretty images and funny content - you want content that fits what your target audience needs.
If you're ready to let your content shine, contact us today to discuss your video project.

Want to learn more on your own? Read our post on Video Production for Business: Finding & Choosing a Great Production Company.