If a TV falls in the woods and no one is watching…
We love the JetBlue phrase, "Without you, we'd just be flying a bunch of TVs around the country." In media, we have the same sentiment.  A great TV spot, social video or commercial is no good to your video marketing efforts unless you have viewers.
So, would you walk into a random building without reading the sign and start talking about your amazing product or service? Of course not! You know that it's not effective to talk about your business to people who aren't interested. Just as you need a target audience for your blog posts, you need a target audience for video marketing. If you upload videos without knowing your target audience, you're basically talking to random people — which is both ineffective and perhaps even detrimental to your business. To find a target audience for your business's video marketing, follow these steps below.
Video Marketing Goals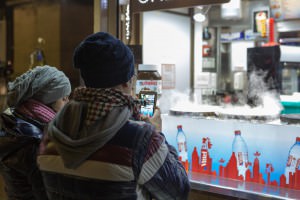 The first thing you should do when searching for the right target audience for your video marketing is define the goals. What do you want to accomplish with video marketing? Are you seeking brand awareness? Do you need to drive traffic to your website? Are sales most important to your company right now? Become clear on what you want to achieve with video marketing and write down your goals. This will help you stay focused throughout the video production process.
Who Benefits Most from Using Your Product?
Ask yourself who wants to buy your product. This will give you a rough idea of potential audiences to target in your video marketing. If you're selling smartwatches, who will want to buy them? Millennials will be excited about your offer because they love technology and tend to be more comfortable with it than older generations. Watches are a common accessory for men, so it's likely that you'll have a male target audience as well. Put the pieces together and come up with the demographics that you want reach.
Find Clues from Your Existing Audience
Analyze the visitors you're already receiving to your website and social media accounts. It will help you define your target audience for video marketing. You can gather information about your existing audience from Google Analytics, PPC campaigns, and social media analytics. Look at the keywords that drive traffic to your website. What kind of person is entering those keywords in the search engine? Also find clues about who your audience is from your most popular content.
Create a Buyer Persona for Video
After you've done your research and know who your target audience is for your videos, create a buyer persona to improve your focus. A buyer persona is basically an in-depth description of your ideal customer. It's like creating a character for a novel. Having a buyer persona encourages you to speak to one person in the crowd. When you talk to one person, you'll attract many people who resonate with your brand's message. In contrast, when you shout to a large crowd, your words fall on many deaf ears.
You probably have buyer personas already for target customers of specific products. You should write one for your video audience as well. You may have several audiences (and therefore, buyer personas) depending on who you are trying to reach with your video. Some people prefer digesting video content whereas others read articles more often than they watch videos online. Take that into account as well when creating your video buyer personas.
Include the following information in your buyer persona:
Name

Age

Gender

Ethnicity

Location

Occupation

Income

Martial status

Children

Education level

Lifestyle

Values

Hobbies

Dislikes

Interests

Frustrations
You may be surprised to see "name" on the list. Yes, you're giving the fictional person a name too. It's only for your benefit, however. Don't address that person in your videos! Here is a great resource on creating buyer personas.
Conclusion
You don't want to make the mistake of producing videos without a target audience because you'll have a more difficult time generating conversions and connecting with viewers. Trying to speak to everyone is a common mistake made in marketing. You need to focus your message on a particular person in order to attract the right customers for your product and brand.
Contact us if you're still struggling to find a target audience for video marketing. We have experience in helping businesses with video production.