We need to tell you something, as a friend. While we specialize in photography and video, we are not just saying this to get your business. But someone needs to tell you, and it might as well be us.
Please, please, please stop using stock photography on your websites and in your marketing materials.  Any time you go looking for a stock photo for your website, video, or other, say this chant to yourself, "Just Say 'No' to the Stock Photo!"
There are a plethora of reasons why stock photography is not good for your business. Here are just a few.
Stock photos do not represent your company.  Often, when you are looking for stock photography for a website or some marketing material, you end up settling because the photo is never quite what you are looking for. A weird high-fiving company photo is not authentic. A strange man in a suit mid-air does not suggest enthusiasm. It invokes discomfort. We are saying this as your friend.
You never know who else is using the same stock photo. The photo you decide to use for your business may be used for another business. That is the nature of stock photography. However, do you want your business to have the same photos as another? Anyone can use these photos, and these photos become associated with a brand.
What if you choose a photo that is the same photo that used on a hemorrhoid cream website? That is a little extreme, but it drives the point home. Using stock photography does not differentiate you from the crowd. It makes you part of Generic-a.
Consumers and clients are more interested in the actual people who work at your company.  If you are using stock photography that is being used by another company, you are representing yourself in a nonspecific fashion. People are drawn to real people, real stories, and authentic voices. Use those instead.
Real people are more interesting.  We, as humans, are drawn to the real story, the behind-the-scenes info. A photo of your actual staff (even if it is just you!) speaks volumes. Photos of real people, doing their real work is not boring.
What if you had a photographer come and just unobtrusively take photos throughout the day? A photo-journalist approach? Now that would be cool and different on your website. That would make you stand out from the competition.
Stock photography is a growing market, and for some things, is highly useful. Stock photography definitely has its place. But should a generic, stock photo represent your company? Represent you? It is something to seriously consider. So, when you reach for a stock photo of co-workers giving a weird high-five, think twice: "Just say 'no' to a stock photo!"
In 2010, Miceli Productions worked with Connecticut fiction writer Matthew Plourde on the completion and promotion of his new book EDEN. This was the "making of a fallen angel." This "behind the scenes" look at what really happens at Miceli Productions is far more interesting and exciting then stock photography!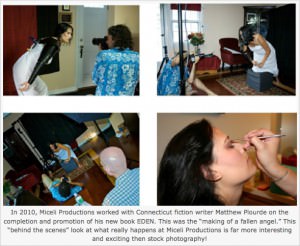 Watch the results below!