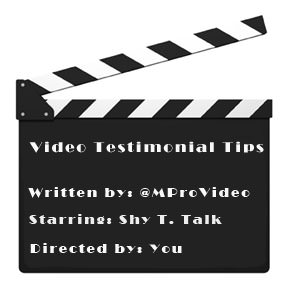 FAQ: "How do you get a person to be natural in front of the camera for a video testimonial?"
ANSWER:  It's all in the directing.  If you follow Miceli Productions HD 10 Tips on Capturing a Fab Video Testimonial you'll be able to get even the most camera-shy people to give you their best in front of the camera.

SET THE STAGE
1. Embody calm positive energy, earn the trust of your video testimonial subject, and exude confidence in the process.
2. Make sure you have a steady camera, quality audio and good front lighting on your subject's face.
3. Don't go it alone.  Minimum 2 people.  One behind the camera, one to actively listen and make eye contact with your subject.
4. Don't assume the subject should always look directly into the camera.  You can still get a very intimate message with a speaker looking at the interviewer seated close to the camera and at the same eye level as the camera.  It's very intimidating speaking directly into the lens.  Make it easier for your subject by giving them another person to connect with.
HAVE A GREAT SCRIPT
5. Prepare stimulating questions, don't just expect a person to monologue.  Great catalyst questions include:
"What would be missing if you didn't have "X" in your life?"
"What would you say to "Mr. Z" if he were still with us today?"
"If you have to put your feelings for "Brand X" into one word, what would it be and why?"
FOCUS THE TALENT
6. Set the tone. Let your subject know if the testimonial is meant to feel formal, off-the-cuff or intimate.  Tell them why they were selected to share their story – whether it was because of their passion, unique perspective or something else.  People often wear many hats, help them focus on which one you want for the camera.
7. Give straightforward directions on what is being asked of the subject including whether or not you plan to capture one or several takes and if you would like them to repeat a question in their answer.
8. Communicate to your subject who the audience of the video will be.  If helpful, have the subject imagine they are speaking to a specific person or community.  This will help in their delivery, voice and focus.
9. Don't be afraid to change DIRECTION, that is what a director is for.  If something isn't working and your subject is still nervous or unnatural, try changing who they are imagining the audience to be or giving some simple yes and no questions to answer in order to get the ball rolling.  Change location if need be, sometimes something as simple as standing versus sitting can make a subject feel more comfortable.
THAT'S A WRAP
10. Reward your subject at the end, thank them for their time and offer to notify them when/if the testimonial goes live.
Seamlessly incorporating all these elements takes practice and planning.  If you are working with a VIP and only have one shot (pun intended!) at getting a great testimonial on video, make sure to schedule a practice run for yourself.