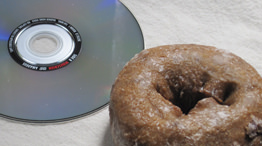 Burn a DVD?  Rip a DVD?  Dupe a DVD?  What's the dif?  Often it seems like people in the world of video speak a totally different language and have 3 different words for what appears to be the same concept.

As media professionals we do in fact have a unique vocabulary to what we do.  Having a basic understanding of video vocab helps business owners be informed consumers when looking to purchase a service or a product.
Your mini video-vocab lesson begins with A, B, C…and D for Donut.
A roll: An old film term meaning the content structure of the piece, voice track and sound bites.

B roll: Supplemental or alternate footage intercut with the main shot in an interview or documentary. Most often B roll footage is what is submitted with a media press release.

Bug: A digital on-screen graphic or logo that many TV broadcasters overlay over a portion of the screen to identify the channel.  This term has migrated online and is now commonly used for businesses and organizations who use a bug of their logo or website to brand their online videos.

Burn: To record data on a CD or DVD.
Compositing: Combining visual elements from separate sources into single images creating the effect that all those elements are parts of the same scene. For a strong visual example and concept of compositing from our In The Studio web videos series CLICK HERE
Compress: To change the file size of a video, to reduce the amount of data storage space necessary.  Most often used when putting video online.
Donut: Pre-recorded commercial with a blank time span in the center into which a special advertising message may be inserted.
Dupe: To duplicate a DVD that has data written on it.  Typically it takes more time to burn a DVD than to duplicate one that is already burned.  There is no difference between a duplicate and an original in terms of quality.
Stay tuned for E – Z.
Part 2 of this series, (E – M) can be viewed HERE.