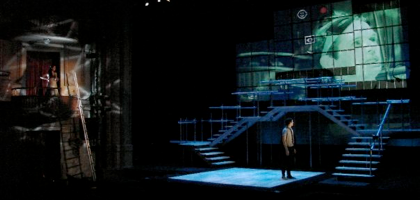 The Virginia Stage Company promised "a bold, new staging" of William Shakespeare's tragedy Romeo and Juliet when it hired Michael Miceli as the multimedia designer to work in collaboration with director Patrick Mullins and set designer Samuel W. Flint on their modern vision,  //romeo&juliet/.
"The production uses Internet technology and audio and video devices to dress and illustrate the drama of two teenagers caught in the quarrels of an adult society divided by hatred and greed.  More than just a high-tech showcase, the treatment adds high inspiration in creating a hard-edged, modern tone that is softened by the sweet innocence of its two lovers."
"The contributions of multimedia designer Michael Miceli are considerable.  A particularly clever touch is that Romeo is banished to an area in which the cell phones can't get a connection." – Mal Vincent The Virginian-Pilot
In addition to rave reviews //romeo&juliet/ was also featured in the January 2010 issue of American Theatre magazine in an article written by Rob Weinert-Kendt highlighting productions using social media to engage with audiences.
Read full Virginian-Pilot theatrical review CLICK HERE