Thought Leadership Video Creation
People are thirsty for knowledge. They seek it out everywhere. They research in libraries. They spend hours browsing through Pinterest. They are glued to DIY programs on television. But how do they really find knowledge that's of value to them? They really need guidance from people who have been in the trenches, from people who have fought their way through an issue with or without expert guidance, learning lessons the hard way. They need leaders who can share their experience in a professional manner to help them escape the common pitfalls.
They need you! They need what you have to share based on your knowledge and experience, presented to them through professionally produced thought leadership video creation.
Thought Leader in the Bridal Business
Beth Chapman has a long career in the bridal business, including the past decade as owner of her own bridal boutique, The White Dress by the Shore. Beth thought that with her experience as a store owner plus years before that working in the dress design and wholesale business, she could benefit other bridal store owners. She wrote a script for a series of videos, then contacted Miceli Productions to create a professional product based on her script.
Beth and Miceli created a series of seven videos that provide advice and information about all aspects of owning a bridal shop, from writing a business plan through hiring and training employees and providing the perfect shopping environment for brides-to-be.
Beth then created a separate website as a style and business consultant where she offers the downloadable videos to current and potential bridal shop owners. She also provides free resources along with her thought leadership videos. All of this has given her a strong position as a thought leader in the bridal business, allowing her to assist other up-and-coming entrepreneurs.
Special Update! Beth will be hosting a FREE Webinar – Increase Your Bridal Store Sales: Identify your "Target Bride"! Monday, September 19, 2016 |  1:00 PM, EST. 
Think about Your Area of Expertise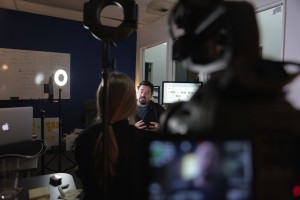 How can you position yourself as a thought leader in your industry? Are you a small-town accountant? A Fortune 500 CFO? An upholstery expert? Thousands of people are out there on Pinterest, YouTube, Instagram and more, sharing their stories, seeking to create followers as they talk about what they have learned through years of experience. But what do most of these potential thought leaders lack? A professional thought leadership video.
Who is going to trust a video with shaky production, obviously shot with a smart phone? Or how about if the "thought leader" just sits at a desk and drones on before the camera? If the viewer stays awake through the video, they sure aren't going to put much stock into what the narrator has to say.
Because you truly have expertise to share, you are going to want your viewers to focus on your message and heed your advice. What's going to keep their attention is a professionally produced thought leadership video or series with not only your valuable content, but also compelling visuals. A professional video production will take your script, review your operation and decide upon the proper images and videos to really sell your script. Just as Beth's videos are filled with smiling brides, attentive staff members and beautiful images from Beth's bridal boutique, your professionally filmed and produced video will highlight your expertise and make viewers pay attention.
Miceli Productions also can help round out your script to make images and words flow seamlessly. We also have connections with professional actors or we can coach your staff to produce professionally sounding video that will relate with your viewers.
Contact us when you are ready to become a thought leader in your industry, to share your knowledge and inspiration with upcoming entrepreneurs and to create more exposure for your business as you set yourself above the competition for viewers who will consider you the go-to expert in your field.
Read More